Testimonials
"I never thought I could look like that"
The quote from almost every client that comes in!
I have never done anything like this but it's something I suggest all women must experience at least once in their lifetime because it was simply amazing! I had no experience whatsoever, but Avital posed me from my eyelashes down to my toes with such positive encouragement & energy! On the day of my shoot I felt so comfortable as I was greeted with thrill & warmth by both of them. As I was getting all dolled up, Avial immediately began coordinating the outfits I brought with her own visions as well as incorporating my thoughts & I must say it turned out magical!
"I decided to do something special for myself..........I booked a boudoir shoot with A Vital Beauty Photo. Wow where do I begin! I was so excited to do this but of course a little nervous since I had never done anything like this before. From the moment I met Avital she made me feel relaxed, comfortable and at ease. I had my hair and makeup done as well for the beauty photo shoot. I felt so glamorous and was loving it. Of course I showed up with a suitcase of outfits, shoes and accessories and Avital was patient and assisted and helped me style and put it all together. The beauty photo shoot was so fun and a great memorable experience. Avital is a super talented photographer, personable and sweet. Avital is a true professional and I am thrilled that I chose her for my photo shoot. My photos are AMAZING and truly FABULOUS. I decided to print some images and make a book. I will treasure these incredible photos. I would highly recommend Avital and A Vital Beauty Photo in a heart beat."
-Caroline
Avital was absolutely amazing. She knows exactly how to make you feel so unbelievably comfortable and get the perfect angle and the perfect picture. I could not recommended her enough. You want an amazing awesome experience of pure beauty def get your photos taken by her. By far the best!! -Merisa
Avital had an art for finding my best angle and made me feel beautiful. I was shocked at how amazing I looked in my pictures! She also taught me some techniques for taking great pictures, some of which I still use today. Even though I started out shy, I wound up feeling so comfortable during the shoot. As a result, she was able to get some great pictures. AC
I highly recommend Avital!!!! If your looking for phenomenal photos and an amazing experience, Avital is your girl!! I had the most memorable Boudoir photo shoot with her. Avital made the entire process painless and easy, going above and beyond. She was so kind and warm from the very beginning. I felt at ease and she gave me confidence making the photo session fun! Having a busy work life, planning a wedding and just life in general, I honestly forgot what it felt like to just feel sexy again. I genuinely want to say she gave me my sexy back! And oh boy the photos came out amazing! When I saw the very first Polaroid picture I was speechless! I just couldn't wait to see the rest. Avital knows all the right angles and she is truly a pro at what she does! -Nat
THIS IS THE LADY YOU WANT TO WORK WITH! I was VERY nervous as I'm not 100% happy with my body after being a mom of 3. After 10 years of marriage and kids, I lost myself. I was there for my husband and kids but not myself. This experience was amazing and Avital made it such a memorable, fun, eye-opening experience. She welcomed with open arms and guided through the entire process. Leaving was a bittersweet moment as I left having so much fun and finding a part of the inner girl. It wasn't only a photography session but also therapy. I didn't really how one boudoir experience would be the push that makes me love myself again. Avital truly nudged that inner me to love myself; I left that session completely changed. I'm ever so patiently waiting for the photos because I saw one and I was speechless. All the flaws I was worried about, I didn't see because she directed in such a way I felt comfortable and confident in myself. She captured my confidence. I never thought I would say that after being a mom. Thank you Avital for changing me, reminding me that I'm still a woman before it all. Can't thank you enough!
"Avital is the such a wonderful photographer. She keeps everything fun, light and professional. I met her the same day of the shoot and the day spent together felt just like spending it with a close friend. She made me feel confident and beautiful which showed in all the pictures. I couldn't have been more happy with how the pictures came out. I look forward to working with her again!"
- Debbie W
"Avital is a pro and she made me feel so comfortable, which resulted in a fun, relaxed photo shoot and beautiful images. Her passion and enthusiasm for photography really shines through and she has a great eye. She does whatever she can to ensure the best shot. The pictures came out amazing -I never thought I could look like that! -Jessica M.

So I gave the album to my husband yesterday and of course, he loved it! We actually cried together for a little bit. It was a beautiful moment. He said he was so proud of me knowing how insecure I've always been about my body. It was the best gift ever for him! He says he still can't believe I did it for him! Thank you! thank you! thank you!"
- Mrs. C
I just wanted to let you know I received the album and prints and I absolutely LOVE everything! The finished album far exceeded my every expectation and I absolutely love the prints. Everything came out truly amazing, I know this is an experience I will never forget and a gift that he will never forget!!
Thank you so much for everything!!!
-Patti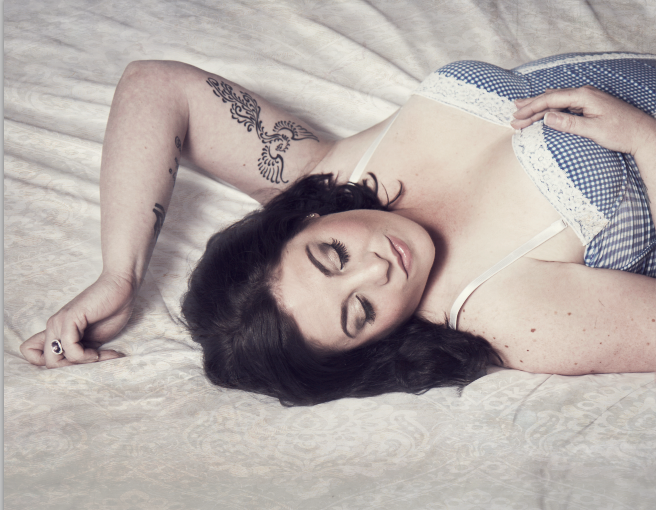 Double-click this text box to edit it
Avital had an art for finding my best angle and made me feel beautiful. I was shocked at how amazing I looked in my pictures! She also taught me some techniques for taking great pictures, some of which I still use today. Even though I started out shy, I wound up feeling so comfortable during the shoot. As a result, she was able to get some great pictures. Ms. C
Do not hesitate to book this session!!
Things I loved about my experience with A Vital Beauty Photo:
1. Avital is an extremely talented photographer. If you review her work, you will find that it is sophisticated and tasteful all while being provocative and unique. This was one of the first reasons I inquired about her services.
2. Like many others, my own insecurities and fears were initially holding me back. Once I began speaking with Avital, all my concerns were eased. The entire process is professional and well planned.
3. She provided outfit suggestions, a guide on what to expect and how to prepare. She was available for questions whenever they arose!
4. Day of - Her home studio is clean, beautifully decorated for the shoot and has a warm vibe. I was greeted by a table with snacks and adorable sign welcoming me! The music, candles and energy from both the Avital and the Glam Artist immediately calmed my jitters.
5. With very little guidance, Avital's Glam Artist created the exact look I was hoping for! It did not feel overdone or cakey. Natural but super glam. I took a picture of my hair and makeup to share on my social media. The feedback was incredible.
6. The Shoot! - was incredible and exhausting (lol). Avital is charismatic, has a creative eye, knows how to instruct you to pose and is able to highlight your beauty in a light you have never seen. You will feel safe and at ease as she always checks in on your comfortability level.
7. Finished Project - I was ableto see an example of a final photo with more on the way. I was floored. It is still taking me time to digest it is actually me! Avital offers many packages that can be customized to fit your budget. I wanted to stay in a moderate price range but am so impressed with the art that I will most likely buy them ALL. lol
8. Conclusion - Amazing experience from start to finish!! Beautiful creative results. Do it for yourself, do it for no reason. <3.
--Missy C.
Avital made me feel beautiful, powerful and sensual from the moment I walked through the door. I never once felt lost, awkward or uncomfortable. I've felt uncomfortable and unsafe shooting before, and working with Avital was such a healing and powerful experience. Avital directed me in a way that made me feel sensual, adjusted my clothing and posing, made sure my hair and make up was always perfect and coached me in a way that brought my sensuality out. Even between shots Avital made me feel like I was a goddess. I can not recommend her enough. Avital is the ultimate professional and goes out of her way to make her model feel beautiful and powerful. If you shoot with any boudoir photographer in NYC, it should be Avital. The pictures I have seen are stunning, and I look at them and feel beautiful and wild and free. This shoot was truly an amazing experience. Highly recommended.
-ThomIris

"Dear Avital, "You don't take a photograph, you make it." - Ansel Adams
I feel that this quote from Ansel Adams could not be more true. You made every minute of our photo shoot a wonderful experience. The photographs you have taken are ones that all parties involved -Photographer, Model, and Viewer --can find beauty in. This would not be possible without your talent and creative vision (and of course the fabulous make-up & hair styling ). Thank you so much for creating images I will enjoy and cherish for a lifetime!"
- Ms. Amy P
I was completely stumped when thinking of a wedding gift for my groom-to-be. I decided to do a boudoir beauty shoot with A Vital Photo and give him the album on our wedding night. It was a smash hit! Avital made me feel absolutely gorgeous and completely comfortable, and I was amazed at how awesome the pictures came out! I couldn't believe the beautiful woman in the pictures was me! I'm in no way a model, but I felt like one the day of the shoot. I would recommend Avital and A Vital Photo to any bride and to any woman looking for a great gift not only for her partner, but for herself! You'll be amazed at how beautiful you will feel!
-Debbie
NOW is the time to book your shoot! Don't worry about the scars, the few extra pounds, the cellulite....I will strategically pose you so you only see the best most glamorous version of yourself! My love for boudoir photography grew out of my own insecurities and I love making women forget theirs! I want to help YOU feel comfortable and beautiful in your own skin from now on!